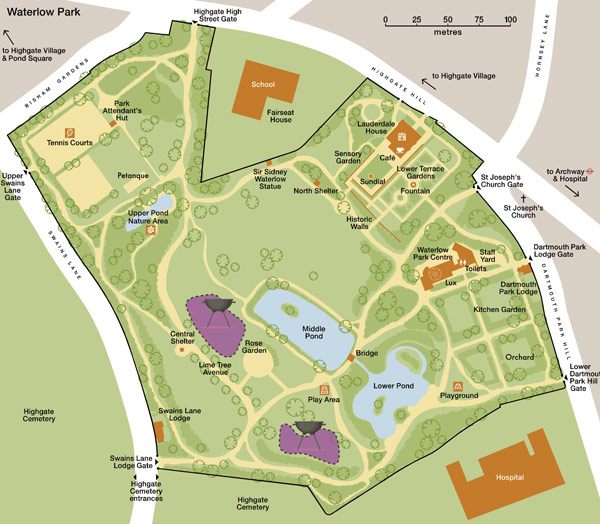 Waterlow Park is a 26-acre park on a steep hillside in Highgate, North London, with spectacular views over the city.  The land was the gift of Sir Sydney Waterlow as a 'garden for the gardenless' and the Park opened in 1891. The historic Lauderdale House and its gardens lie within the Park which is landscaped with ponds, a wide variety of trees, colourful borders and grassy slopes.
The nearest underground is Archway on the Northern Line [Barnet branch] and then a short [uphill] walk or take a bus 210, 271, W5 or 143.
The park is open from early morning to dusk and it is locked when dark.  The opening and closing times vary and are posted on the noticeboards by each of the seven gates to the park.  For current times click here: closing times 2023.
There are playgrounds for young and older children towards the southern end of the park and ponds through the middle.  The café in Lauderdale House, run by Pink, is open everyday and the House hosts a variety of activities and events.  There are public toilets in the Park  Centre [see note to map for current arrangements].
Regular volunteer gardening sessions organised by the Friends, the restored kitchen garden and a community orchard offer opportunities for members of the public to get involved.


Toilets
There are three functioning toilets in the Park Centre: one is for disabled people and there is a slope approach. Further toilets are open in Pond Square in the centre of Highgate 9 am to 8 pm.