Camden council have obtained grant funding for a new Play Area in the park for 6 to 13 year old children. The location chosen by Camden is between the hollow oak tree (above the lower pond) and the paths to the Swains Lane gate.
The Friends of Waterlow Park undertook two surveys, one of 65 adults and another of two classes of local school children (see results below). Results clearly indicate that whilst there is support for a new play area, the location chosen by Camden would only be favoured by 1 in 5 park users. The FoWP have therefore protested against the choice of location ( see statement ) but to no avail.
Extent of high and medium impact of new play area:


Location '4' – The Camden site
Affects 3+ 'through routes' and a number of 'circuits' for walkers. Is visible in winter months from slopes below Lauderdale House and in all seasons from the path near the upper pond. This location has a high impact on the character of the park.
A dismissed alternative – By existing playground
Affects 1 'through route' from Lower Dartmouth Park gate and 1 'circuit' for walkers going round park. As there is an existing area of impact due to the infant playground the proposal would only extend the existing zone at the southern side of the pond. The area is not presently used. The play area would probably be visible from the bridge between the ponds but would not be noticeable from most of the park or significantly change its character.
Survey responses

Adult survey
65 respondents (Updated Jan 09).
77% in favour of a new play area
59% believe being able to supervise the existing play area and a new play area together is 'very important' (34%) or 'useful'.
66% think the park should cater for events that may require temporary structures.
67% believe that the noise from a play area is a 'very important' (35%) or 'somewhat important' consideration in choosing a site.
81% believe that the visual impact of a play area is 'very important' (46%) or 'somewhat important'
51% are not not concerned that there would be a loss of existing space for general leisure use.
Favoured location-
12% voted for location 2 (by the tennis courts)
22% voted for location 4 (by hollow oak [Camden proposal])
48% voted for location 5 (by the existing infants playground)
12% both voted 'no' to any play area and did not select a location

Play equipment-
34% selected 'adventure'
34% selected 'modern / eco
12% selected 'minimal'

Children's survey
Surprisingly the children were not unanimous in saying that there should be a new play area with 28% either saying 'no' (13%) or 'no reply' (15%).

A majority of the 55 children from a group of 8 & 9 year-olds who participated have a younger sibling. It can be assumed that the sibling is likely to be aged 4 - 7 years and that parents would therefore need to have adjoining play areas suitable for both children.

Many children would also like events in the park that would need large temporary structures.

Children would massively favour a 'zip wire' as their favourite playground activity.

Space and trees, the 'natural' side of the park were cited as the 'best thing' about the park. (The cafe came second!).
36% of children questioned currently enjoy playing football and other games in the location favoured by Camden for a new play area. (There is only one other flat grassy area in the park suitable for such play).
Downloadable documents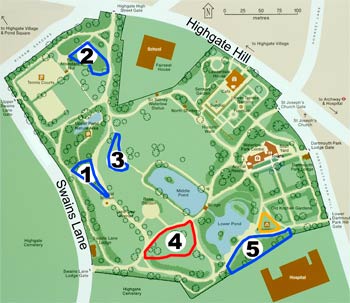 Camden proposal

Sites considered

Response to Camden re consultation from FoWP 15th Dec. 2008

Adult survey summary results



Children's survey summary results

Impact zones

Response to Camden following decision 25th Jan. 2009
Stay in touch - Join the FoWP