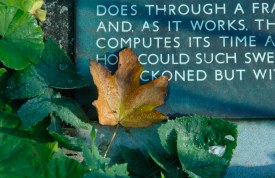 There are always projects at various stages of development in and around Waterlow Park A summary of some of these follows. If you have expertise or a particular interest in any of the areas mentioned, or in others that you believe should concern the life of the park do get in touch.

Bees
Camden are in discussion with North London Beekeepers for a small area of the old 'permaculture plot' to house a few beehives. It is hoped, if successful, this will become more of a community project.
Sparrows Meadow
The RSPB are running a study to try to encourage the return of sparrows. Populations of sparrows have fallen dramatically in recent years, and it is thought that this is in part due to a decline in insects vital to a fledgling birds diet. The RSPB have proposed planting a meadow on the slope by Swains Lane gate to encourage insects and birds. Public access to the area will be unaffected following initial planting. The Friends of Waterlow Park support this initiative and would welcome any comments you may have.

Horticulture project
We are hoping that together with Camden Parks it will be possible to develop a horticultural discovery area which could be of benefit to adults and children alike.

Lottery Grant
There is an opportunity to apply for grant funding to develop projects around the park. The FoWP are working on a couple of ideas and are keen to consider any others that you may have. Proposals are most likely to be favourably viewed if they include educational aspects and / or improve access and enjoyment of the park. Available grants are in the £25,000 to £50,000 range.

Aviary
The FoWP are in discussions over the possibility of re-opening the aviaries to birds. Specifically an opportunity has arisen to house budgerigars and it is thought that these birds will re-invigorate an area of the park that has been a little neglected for some time as well as bring much pleasure to young and old alike. An alternative proposal for the Aviary is also in the offing, so it is hoped to review both in tandem with determining any logistical considerations.
Park Centre
The Park Centre is under review.