Published 2018: IN LIVING MEMORY: The Benches of Waterlow Park
Thirty-six stories about the people remembered through their benches in the park have been researched by local writer, Towyn Mason.
These are now presented as a delightful book [112 pages, with over 70 illustrations ISBN 97815227217270], which is now on sale, priced at £9.99. Get your copy from Highgate Bookshop, N6 or via our webshop.
_____________________________________________________________________
In 2016 Buzz magazine featured an article from former Chair Ceridwen Roberts:
---
_______________________________________________________________________
Three leaflets to enhance your enjoyment of the park are available here:
_______________________________________________________________________
---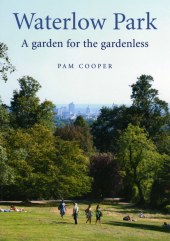 'Waterlow Park, a garden for the gardenless'
by Pam Cooper
The land, the people, their houses and gardens, especially the Lauderdale House terraced garden,
from earliest times; from 1889, the public park, its historic trees, the park restoration of 2005

Pam Cooper is by profession a technical translator of European languages. She is a graduate in the Conservation of Historic Landscapes, Parks and Gardens (Architectural Association), 1992. From 1999 to 2002 she chaired the Friends of Waterlow Park and the Waterlow Park Action Group, which was formed in response to proposals to restore the park.
Review highlights:

Camden New Journal, 15 March 2007:
by Dan Carrier.

In a new book which charts its history, a wonderful story of a selfless gift to the people of Camden is revealed.

Garden historian Pam Cooper …was the chairwoman of the Friends of Waterlow Park.
.. her history of Waterlow Park (is) complete with lavish pictures, illustrations and maps….

Buzz, the magazine of the Highgate Society, Spring 2007:

Waterlow Park, A garden for the gardenless
Review by Marius Reynolds on Pam Cooper's new book

The book is based on painstaking study of a long list of primary sources and other research material. Pam Cooper describes the park, its structures and its trees and planting vividly and engagingly.

In the introduction, Peter Barber (Keeper of Maps at the British Library) describes the book as the key to understanding and enjoying Waterlow Park and its links to vanished houses and gardens; and to parks in Liverpool, to forts on the Thames and old gardens in Wales.

…(it) is beautifully laid out with many memorable photographs in black and white and in colour. Amongst the illustrations are bird's eye view drawings specially prepared for the book by Oliver Cox, showing the gardens of Lauderdale House c. 1690 compared with them in 1872... Another innovative feature is a chapter on the trees of the park, locating and identifying them with illustrations in context and enlargements of leaves for easy recognition.

The book is a welcome addition to those about Highgate which readers of Buzz (apart from the wider public) will want to add to their collections.

Camden History Society Newsletter, January 2007:
Another feature of Camden that has recently been refurbished is Waterlow Park. To mark this has come a splendid ….A4 format book by Pam Cooper, full of colour and illustrations, very nicely designed and printed.

Ham and High, December 28 2006:
A new literary tribute to one of London's most popular parks ….
Pam Cooper ………has packed years of research into her new book 'Waterlow Park, a garden for the gardenless'.
Availability: local bookshops, including Highgate, Owl and Waterstones (Camden)
Also the British Library, Guildhall and RIBA bookshops
ISBN 978095544007 Published October 2006 £12.95