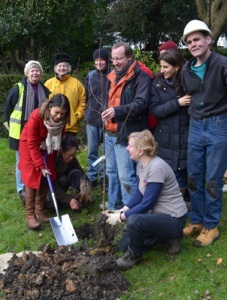 The Friends of Waterlow Park – with the support of Camden and the London Orchard Project – led a campaign through 2012 to establish a Community Orchard in Waterlow Park.
When the Park was still privately owned it had substantial orchards and vegetable gardens and this provided the inspiration for the idea, conceived by FoWP Committee Member Richard Shipman and his wife Michele.
Donations were solicited from park users and over £600 was pledged. Before we were able to plant, Camden had to satisfy their concerns that the soil in the orchard might be contaminated. Examination of the upper vegetable garden – just above the plot the orchard was to go in – had revealed contamination, which resulted in above ground planting beds being built.
Camden finally had the soil sampled and analysed in January of this year and were able to give the green light to plant in mid-February, after the orchard was found to be clean and safe.
On February 28 we finally planted ten trees (with three more to come before the end of March). The planting day was memorable for the fine weather and great attendance. Many supporters turned up to help – and trees were planted by Camden Cabinet Member Tulip Siddiq and Councillor Valerie Leach.
Pupils from St. John's School in Holloway also planted trees and we look forward to their visits over the coming years.
When planting is finished we will have 6 Apples, 1 Pear, 1 Crab Apple, 2 Plums, 1 Gage, 1 Cherry and 1 Apricot. While the apples and pears will start bearing fruit in the next year or two, the fruit will be trimmed early in order to allow growth to concentrate in the roots. We expect edible fruit in 3-4 years – and full harvests in about 10 years.
For more details about the trees please visit the Orchard web-site at www.waterlowparkorchard.org.uk