Many will be familiar with Sir Sydney Waterlow's legacy of "a garden for the gardenless" but may not know this took a new turn with the very successful establishment, in 2011, of a Community Kitchen Garden.
Of course, as Pam Cooper's lovely book about the Park shows, the original house had its own extensive kitchen garden, crucial to support a large household, but the very large area had been turned into ordinary parkland many years before.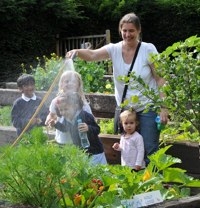 One small section however, had been identified by the Friends of Waterlow Park as just the right area to reinstate a kitchen garden. In 2005 it had had a brief life as an allotment site to remind park users of the "digging for victory" campaign of the 11 World War and while this was enthusiastically started it was not planned to have a continuing life. But FoWP had a vision and was determined to press on.
Complications set in when it was discovered that the soil was contaminated so it was not fit to eat produce grown there even though the level of contamination was not more than some London gardens. The solution to the problem was to have raised beds filled with fresh, uncontaminated soil. Regular checks at five year periods should mean that there will be no risks from vegetables and fruit grown there, even if it is eaten regularly.
Key to the realisation of FoWP's vision was the role Camden Council played. The then Head of Parks, Shaun Kiddell, took this project on enthusiastically. Plans were drawn up by Camden Parks staff with a representative from the Friends and from BCTV (British Conservation Trust Volunteers) working with them.
Finally work started on the site in January 2011. Difficulties included a sloping site, a lot of mud, bad weather and heavy clay soil. The volunteers worked hard and, within three months, 10 raised beds had been erected. During the same period, local community organizations were invited to submit applications if they wished to manage one of these plots. The organizations initially selected included two schools, one mental health unit, a dementia organization, the Friends of Waterlow Park, HICAN and three local gardening groups. There have been some changes in subsequent years.
Planting began in May 2011 and, on a lovely summer day with young plants already thriving, the Community Kitchen Garden was officially opened by Tulip Siddiq Camden Cabinet member for Culture. Throughout the summer, plots continued to be worked and to show healthy collections of vegetables and flowers. Each group decided what to grow when to harvest. When the hot weather lasted watering was essential and groups helped each other out with this sometimes arduous task.
Surrounded by the original, high, yew hedge, the garden has a quiet and 'secret' feeling. One new mother was seen feeding her baby there on a few occasions and many park visitors enjoy sitting into this peaceful spot. The common parts of the garden have standard roses and goosberry bushes and in the first summer the borders danced with a profusion of wild flowers.
Waterlow Kitchen Garden has been a great success. The partnership between Camden Council and local community groups has made this food growing project a productive exercise in community development and collective working. Everyone involved takes pleasure in the work, the harvests and the garden. For a number of years after it started, the Kitchen Garden participated in the annual London Open Garden Squares weekend in June.