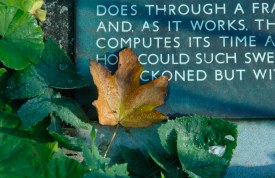 There are always projects at various stages of development in and around Waterlow Park A summary of some of these follows. If you have expertise or a particular interest in any of the areas mentioned, or in others that you believe should concern the life of the park do get in touch.
Drinking Fountain
Camden Council has applied for finance to install a new drinking fountain in line with the London Mayor's initiative to reduce use of plastic bottles. It is then hoped to repair the existing fountain.
Top Pond - Nature Reserve
The Friends have engaged with Camden's department of Nature Conservation, and TCV (The Conservation Volunteers), to attempt to improve the water quality in the top pond to create a better habitat for the proliferation of amphibians. Removing invasive killer goldfish and preventing the spread of all engulfing duck weed are the primary aims. The Friends of Waterlow Park would welcome any comments you may have.

Horticulture project
We are hoping that together with Camden Parks it will be possible to develop a horticultural discovery area which could be of benefit to adults and children alike.

Lottery Grant
There are always opportunities to apply for grant funding to develop projects around the park. The FoWP are working on a couple of ideas and are keen to consider any others that you may have. Proposals are most likely to be favourably viewed if they include educational/heritage aspects and/or improve access and enjoyment of the park. Available grants are in the £25,000 to £50,000 range.
Park Centre
The Park Centre is now home to Lux and is no longer available for rental..