Encouraging sparrows in Waterlow Park
by Ceridwen Roberts, Chair Friends of Waterlow Park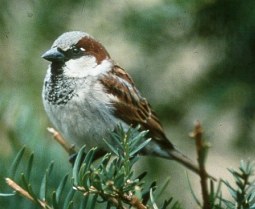 Did you know that sparrows were an endangered species? No…? well neither did I nor did most of the Friends of Waterlow Park until Richard Harris, Camden's Nature Conservation Manager suggested that Waterlow Park should be one of the RSPB's sparrow project sites.

London's house sparrow population has dropped 68% compared with that of fifteen years ago and the RSPB suggests this indicates something is wrong with our environment. House sparrows have now been accorded "red" status as an endangered species which means they are at serious risk.

Jacqueline Weir, who runs the RSPB London House Sparrow Project, came to the Spring Meeting of Friends of Waterlow Park to explain the problem and how the project is working in Waterlow Park. You may have seen the areas of the park which are temporarily roped off and wondered what was going on.

RSPB is running trials in a number of public parks and gardens in London including Hampstead Heath in an attempt to create the right habitat for sparrows essentially by providing the type of food that both baby birds and the adults eat. A section of the park has been turned over to become a wild flower meadow and another section to long grass. These areas will produce the types of seeds which adult sparrows eat and should also support the type of insects the grubs on which baby sparrows feed. There are control sites nearby [not roped off] and RSPB with its team of volunteers will be monitoring both to compare the bird life attracted to them.

Jacqui explained that the project lasts for three years. This first year is about establishing the type of habitat which is deemed sparrow friendly. The area will only be roped off while the meadows are being established and then there will be public access again. This last point is very important as many park users do not want to be denied access to their favourite sunny slopes. FoWP will hold the RSPB to this promise and also to providing us with full information about the progress of the project and the results.

At the meeting Jacqui defended the project against the strongly expressed view by one park lover that "sparrows are horrid little birds we should not worry about". She explained that the new habitats would also bring many other benefits for wildlife. They would attract and support butterflies, bees, grasshoppers and other garden birds like greenfinches and tits. The meeting welcomed her enthusiasm and hoped the project would work and that wildlife in general would benefit. It also suggested that Camden and the RSPB should support a display in the park telling park users more about the scheme.

Camden's new Head of Parks and Open Spaces, Shaun Kiddell strongly endorsed this. Barely a week in post he spoke briefly about the importance of adopting measures in Camden's diverse parks which were ecologically friendly and contributed to nature conservation. But he was also alive to the need to balance all this with providing a space for the public to enjoy. And he reminded his audience that there were many different publics with many different needs and priorities. He would be aiming to meet as many of these as possible within tight financial constraints and FoWP would need to play their part in identifying priorities. It was not a question of wildlife and plants versus people but accommodating both successfully.
Read more about the Sparrows Meadows