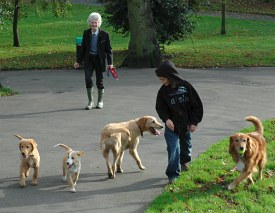 The Friends of Waterlow Park is an independent local community group concerned with Park issues. It was formed in 1992 under the auspices of Camden council. FoWP worked with Camden Council and English Heritage to restore the historic park's splendour helped by Heritage Lottery Funding.

FoWP aims to provide a voice for park users and lovers and to raise their concerns with Camden council and other local community and environmental groups. It also keeps members informed about park developments by holding meetings and events.

See summary minutes from committee meetings.

The AGM is usually held in late spring and elects the committee

The Committee at the start of 2013

Joint Chair ……………..Ceridwen Roberts / Christine Farrell
Secretary …………Ian Henghes
Treasurer…………Catharine Wells
Members………….Marcia Beer, Louise Lewis (membership),
Mel Manhine, Richard Shipman, Patricia Walby.

Keep in touch
Join our mailing list to stay in touch. Alternatively do consider joining us using the form below and you will always know what is going on. Members may have additional benefits.

We welcome new members of the Friends.
Membership is £5 a year. If you are interested become a friend now.

More about us
Download a short statement about the Friends.